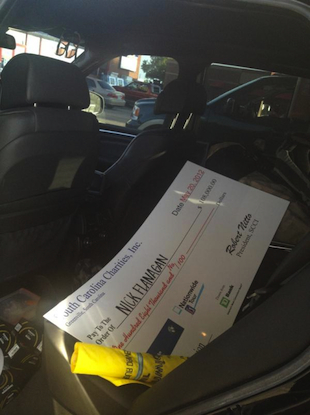 Nick Flanagan had one heck of a Sunday at the Nationwide Tour's BMW Charity Pro-Am. After making birdie on the final hole of the tournament by bouncing his ball off the grandstand behind the green to within 15 feet of the cup (you can check out the highlights here), the Aussie went on to secure the tournament in a three-hole playoff over Cameron Percy for his first win since 2007.
Needless to say, it was a big day for Mr. Flanagan. He not only pocketed a cool $ 108,000, but also walked away with another sweet parting gift: the oversized check. Yep, just like "Happy Gilmore," Nick Flanagan appears to be an oversized check collector.
After his round, he tweeted the above photo from his car with the following message:
Feel like happy Gilmore driving home. Thank you everyone for the support. Effing legends! Yewwwwww! twitter.com/4flanagan/stat…

— Nick Flanagan (@4flanagan) May 21, 2012
I always wondered what happened to those oversized checks. I guess we now have our answer. The only question that remains is if those things can be deposited at the bank. I'd sure like to see Nick Flanagan attempt to put that thing in his account.
Devil Ball Golf – Golf – Yahoo! Sports
Other Related Posts: